Posted on 14. Sep, 2012 by Elegant Resorts Travel Experts in Destinations
With Asia becoming ever more popular as a luxury holiday destination, travellers are flying into and out of Singapore Changi Airport on route to a huge number of beautiful secluded resorts across the continent. From couples flying to South East Thailand for tranquil beach-side villas with stunning views through to families on a luxury holiday to Australia – stopping off in Singapore is wonderful way to relax at the start of the holiday – as well as beating the jet lag! Singapore really is the gateway to adventure; not only is it on the flight route for a whole raft of onward destinations – it's also an exciting introduction to the sights, sounds and traditions of Asia!
Singapore works so well as a stopover destination because it's the perfect city destination to explore – however much time you have; especially as travellers from the UK don't require a visa. With airlines including British Airways, Virgin Atlantic and Qantas all stopping here to refuel , and the airport hosting the Airbus A380 Superjet, it's a perfect place to explore as part of a long-haul break.  If you want to minimise jet lag for your on-going journey, aim to arrive in Singapore in the early evening. Singapore Changi Airport is close to the centre of the city, so it's easy to get from tarmac to your hotel in an hour – and then grab an early night to stave off any symptoms of a long-haul flight!

One must-do once you're awake and rested is a visit to the Singapore River. There are a number of ways to see the city from the river – from the water taxis which traverse the waters past the Boat Quay and Clarke Quay, to the bumboats which once transported cargo, but now ferry tourist passengers. For a unique view of the city, choose a boat which is passing the waterfront which has been regenerated to showcase new shops, restaurants and bars.
A visit to Singapore in 2013 is also the perfect time to visit the infamous Raffles Hotel; this much loved institution was a favourite place to stay for a number of writers in the 19th century, including Rudyard Kipling and Noel Coward. It's also the home of the Singapore Sling cocktail; the hotel's Long Bar is the perfect place to taste this refreshing drink as it was intended! This year the Raffles Hotel Singapore will turn 125 years old, and is celebrating in a number of ways. Whether you choose to taste the celebratory limited-edition 125th Anniversary Billecart-Salmon Brut Réserve Champagne that the bar keeps chilling or plan to experience the 'Time to Celebrate at Raffles' exclusive hotel stay, this truly is an impressive year for the Raffles Hotel Singapore.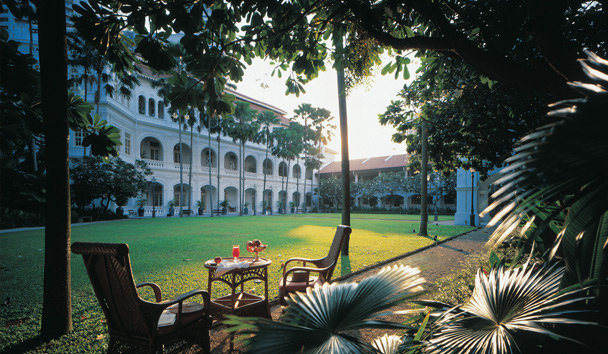 For visitors to the Far East, a Singapore stopover is the perfect way to start your trip – whether you're planning on heading to the full moon parties of Thailand or the high-rise magnificence of Hong Kong. If you're planning on an Asia adventure starting in Singapore, you're best to fly with one of the following airlines: British Airways, Qantas, Singapore Airlines. If you fly with one of these three airlines, you can travel direct to Singapore from London – and each has an impressive Business Class cabin on their long-haul flights.
Singapore is often chosen as a stopover on journeys between the UK and Australia, as it cuts the in-air time from one 24 hour period to two shorter flights. Flying between Singapore and Bangkok can take as little as two and a half hours – so it's an easy hop to head into the delights of Thailand. Similarly, if you're planning on seeing the contrast between Singapore and Hong Kong, it's a short three hour journey between the two cities. Wherever you're planning on visiting in the Far East, Singapore's a sensational starting point.
If you are going to head to Singapore for the first keg of your trip, why not spoil yourself and book a stay at the iconic Raffles Hotel Singapore? As well as all of the celebrations in this, the 125th Anniversary of the hotel, you'll find exceptional service in a stunning setting. Alternatively, the Four Seasons Singapore is another contemporary hotel which takes pride in being an oasis of calm in the hustle of the city. Explore a host of luxury hotels in Singapore on the Elegant Resorts website.
Elegant Resorts Travel Experts